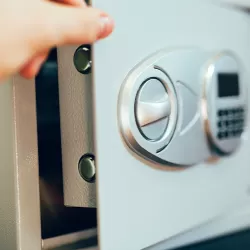 Brady's Locksmith is well-qualified to handle opening of safes and security vaults. We can easily handle all types of safe repair and safe unlocking / opening when you lose or forget your safe combination. If you are in Fremont County, Colorado, we can get to your location and open your safe quickly.
We also offer safe and vault locksmith service in Chaffee County, Colorado.
As a safe locksmith professional, our objective is to unlock your safe in least destructive manner. We try unlocking your safe without drilling or breaking it open.
Safes, vaults, and locked file cabinets are great places for storing confidential business files or precious items. Sometimes, these units do more than protect against theft; they prevent owners from accessing their belongings.
Whether a key is lost, or a lock is malfunctioning, it can seem impossible to gain access to the safe or vault. That's where Brady's Locksmith can help!
Safe and vault opening
Safe and vault lock installation
Rekeying safe and vault locks
Making new keys for safes and vaults 
That safe could even contain banking information that will allow the criminals to commit identify theft and cost you hundreds of thousands of dollars. 
Although opening a safe with lock issues may seem unfeasible, Brady's Locksmith has specialized equipment that can open most safes. The specific method for getting into the safe will depend on the type and complexity of the safe. Often, we'll be able to open the safe within 30 minutes. Complex safes can take longer to access. 
Accessing Your Safe or Vault
There are several methods used by locksmiths to get into a safe, including: 
Lockpicking


Locksmiths are often able to open the lock by picking it. If keys have been lost, new keys can be cut for the lock, or Brady's Locksmith can change the lock. 




Code resetting


To access an electronic safe, Brady's Locksmith will need to use a device that can electronically retrieve the code or reset the lock back to its default code.

 


Scoping


When a safe has added security measures, we may need to drill a hole in the safe and then insert a borescope into the hole to find out how to open the lock.

 


Drilling


Some occasions require that the safe be drilled to get it open. Following the drilling, Brady's Locksmith would carry out the necessary repairs.

 
Brady's Locksmith is here to help home and business owners determine the best options for accessing their items in a locked safe or vault, whether through repair, replacement, or rekeying. We can open your mechanical or electronic safes and vaults, and also change safe lock combinations for electronic safes easily.